Ticket labels are greatly beneficial for tracking customer phones. Instead of guessing which cell phone belongs to which customer, you can print ticket labels and paste them on customer cell phones or other digital devices. All you have to do is scan the ticket label and voila! All the relevant information will appear on MGR.
DYMO Label Writer 450
However, ticket labels due to their small size and special paper cannot be printed on ordinary printers. To print labels, MGR suggests DYMO Label Writer 450 printer to our customers.
DYMO Label writer 450 Printer Setup
Setting up the DYMO Label Writer Printer is super easy! Let us show you how!
Install Printer Driver
The first step for setting up DYMO Label Writer printer is to install its relevant driver. To install the driver, please visit this link to download the drivers.
Once the driver is installed, connect the printer to your system and proceed with the installation.
Recommended Paper Size
A. Setting up a paper size in printer settings
1. On your computer system, go to Settings and select Devices.
2. Once the printer is successfully installed, it will show up under devices. Open DYMO Label Writer 450 and click on
3. Now select Preferences.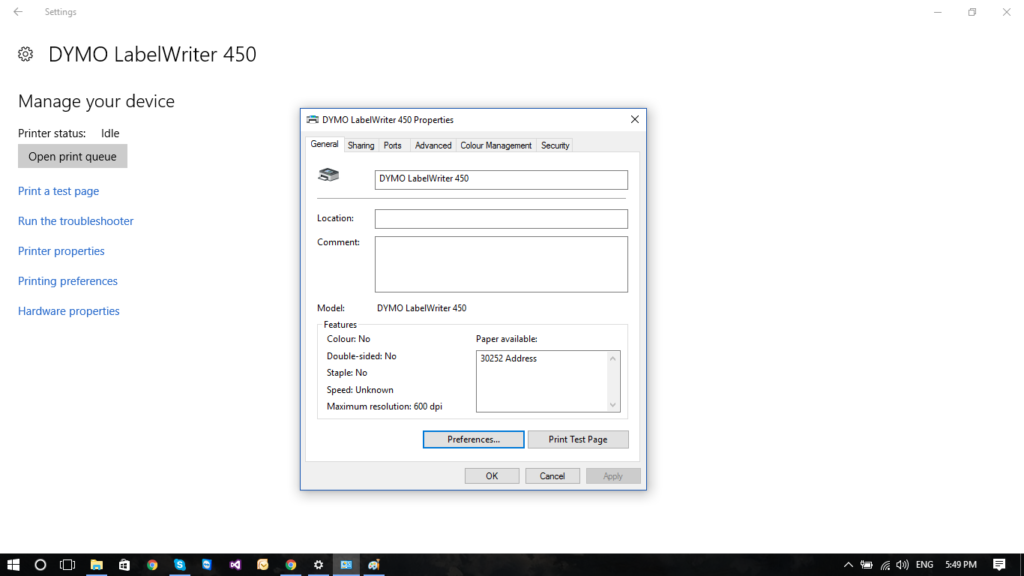 4. Click on Advanced.
5. From the Paper Size drop-down menu, select the right paper size. The suggested paper size is 30336 1 in x 2 – 1/8 in. This roughly converts to about 25.4 mm x 53.97 mm. 
Note: Please select the paper size mentioned on the paper roll which is specifically recommended for DYMO Label Writer 450 printer. The size we have suggested is the minimum size. Paper size should not be less than that.  
6. Finally, click on OK to save settings.