Adding a New Customer in MGR
To add a new customer simply head to Tickets/Customers section from the Dashboard and click on the Customers link.
Click on the New Customer button on top.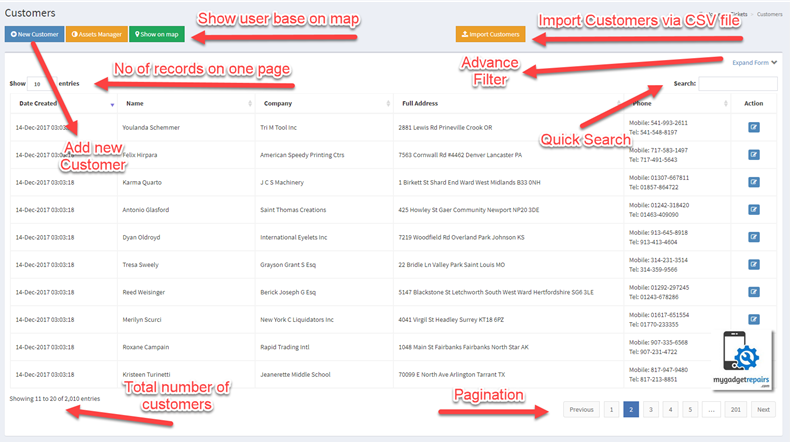 You will be taken to Add New Customer screen. Here you can enter all relevant information about a customer which can be of use for future reference.
You can enter customer information such as:
Shop – Shop Customer belongs – for franchise account
Referred by – Referral channel for acquiring customer
Gender – Gender of customer
Name – Full name of customer
Full Address – Customer's full address, start with postcode/zipcode
Email – Email address
Mobile – Customer's mobile/cell phone number
Telephone – Landline phone number of customer
Company – Company to which customer belongs
SMS Service Enabled – Allows you to enable or disable SMS communication using the customer's mobile number.
Opt-Out of Email Marketing – Enabling this feature will just prevent marketing emails from being sent to this customer's email address. Email correspondence regarding invoices, tickets, etc. will still be sent to the customer's email.
No Email – Of Any Kind – Disables all email communication from being sent to this customer.
Comments – Notes about customer
Once you've entered customer information, hit Add Customer button to add details to the customer record.
MGR has a check on name, email and mobile number. If an existing record has the same name, email and mobile number then you will get an error.
You can add a customer through POS as well, click on customer drop down and select Add New Customer and then click on + button. A popup screen will open, asking you to enter customer details. Once entered, click on Add Customer to add the customer.